| | | |
| --- | --- | --- |
| | Calface ® | |
A Calcium which checks deficiency at all stage of poultry and checks Toxicity & Water Sanitation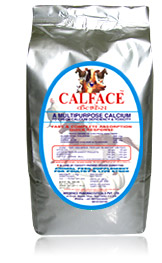 Chicks
Requirementof Calcium is high because of poor feed intake, thus an immediate Calcium supplementation results in better bone formation.
Grower & Broiler
Third week onwards bird grow at a rate much faster & quite often body mass of the bird & the skeleton are disproportione, Calcium supplementation at this stage always helps in strengthening the bones, resulting in better growth.
Layer
Since 2-3 gm Calcium is required for the formation of egg shell, quite often it results in excretion of calcium from bones, this is advised to provide extra Calcium at this stage.
Each Gram of Calface Contains

Elemental Calcium
300 mg
Vitamin D3
600 I.U.
Citric Acid
100 mg
Added Colour & Flavour